Flourish University Episode 03 – Blake Blossom, Ricky Spanish with Anthony Pierce
Posted On November 8, 2021
November 8, 2021 – https://avn.com/business/press-release/video/the-flourish-xxx-premieres-episode-3-of-flourish-university-903512.html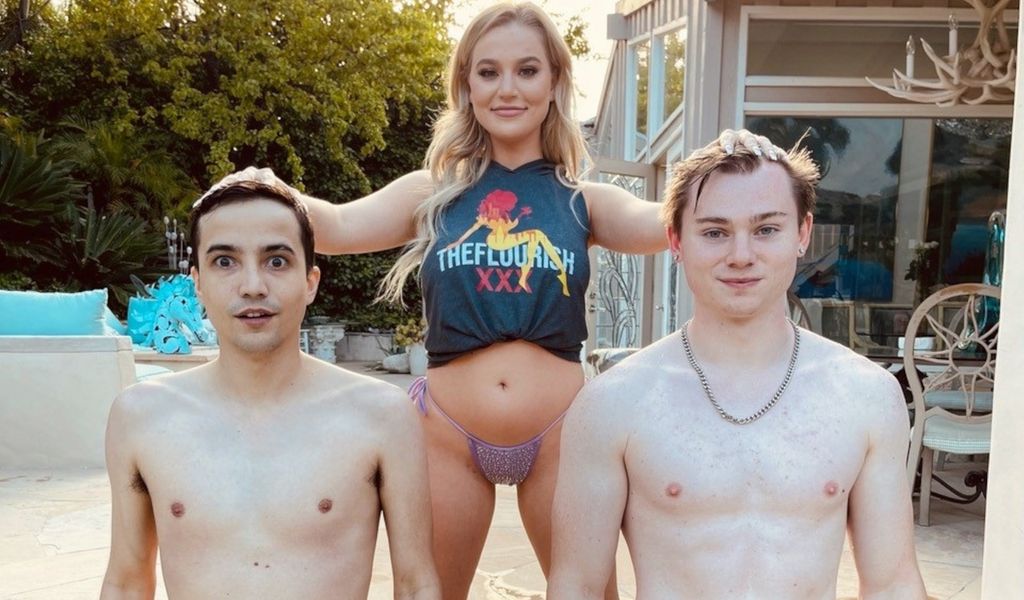 LOS ANGELES—The Flourish XXX has released episode 3 of "Flourish University," featuring Blake Blossom.
The episode begins with two new college boys (Ricky Spanish and Anthony Pierce) talking about how excited they are to be a part of the sex and academics university. After sharing their thoughts on their sex lives, they jump in the student pool to cool off where the sexy Professor of Blowjobs (Blossom), arrives to give a master class on oral sex and other erotic pleasures.
The guys are shocked. Unfortunately for Anthony, Blake only has room for one lucky student in her up-close-and-personal, hands-on course, so she picks Ricky to join her in an outdoor bed, demanding he show her what he knows about going down on a women to get things started. He brings her to a quick climax, then she shows him why she is nicknamed Blowjob Blake Blossom.
To watch the scene, click here.
"It went absolutely wonderful," Blossom said after the scene.
Her scene partner, Spanish, agreed. "The scene was great. Amazing, out of this world!"
"It was my first of many shoots with The Flourish XXX," Pierce said. "Ricky was cool to talk to on set. The water was cold, but Blake was insanely hot, so it was okay. Love working with their Flourish University series of TheFlourish XXX."
"That day was initially a challenge as we had to pivot before the shoot, but everyone came to work and they were focused," said The Flourish CEO TJ. "Blake added some 'dimensions' that were very very special in the instructional side of teaching sex and the depths she took it. Phenomenal approach she had."
Meanwhile, The Flourish XXX is debuting "Club Flourish – Margarita Lopez," available here.
Also available is episode 2 of "Flourish University," starring Gia Derza, Isiah Maxwell and Annie Archer.
To see the trailer, click here.
To see all episodes as they are released, visit TheFlourishXXX.com or click here.
The site features clips from resident assistants and students, a photo gallery of fun behind-the-scenes images and more. Guests are encouraged to post party events and submit college party videos. They can even sign up as potential new talent if they are interested.
The Flourish XXX just updated its sites to a brand-new format to accommodate the wealth of new content it's releasing. The upgrade features new cards highlighting the expanding genres they now offer, including Club Flourish XXX, PAWG, Orgies & Gangbangs, Flourish Fetish, Flourish University, Captured and more.