Captured Episode 6 – Marica Hase gets the X Cross by Troy Francisco
Posted On February 14, 2022
Feb 14, 2022 – Trailer on our site: https://tour.theflourishxxx.com/trailers/Captured-Episode-6-Marica-Hase-gets-the-X-Cross.html
PR Article: https://www.xcritic.com/newswire/the-flourish-xxx-drops-captured-episode-6-starring-marica-hase/?utm_source=dlvr.it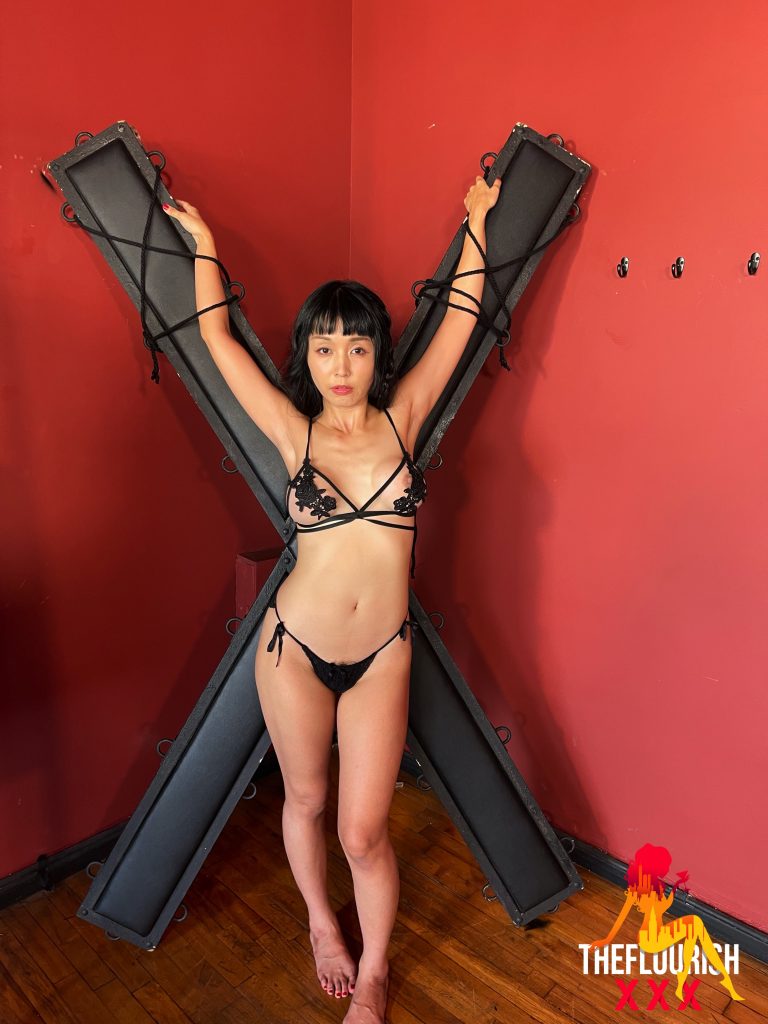 HOLLYWOOD – The weekend may have belonged to sports and 90's hip hop fans, but that doesn't mean The Flourish XXX took their foot off the gas! Friday afternoon they released the latest installment in their taboo Captured series, Captured Episode 6 – Marica Hase gets the X Cross by Troy Francisco.
The scene features Troy Francisco on the run from a rival crew in the LA street war. He retrieves a package for the head boss Marselas Flourish, played by Mr. Flourish himself, and the two celebrate his success on the rooftop of the downtown Los Angeles hidden warehouse office before heading to the basement for a special surprise.
The boss gives Troy a present for his hard work – sassy Marica Hase tied to a Saint Andrew's Cross. Instructing him to teach her some manners, he leaves them. Francisco frees the Japanese cutie from her bonds then the two get wild, fucking on couches, a stripper pole and stage, and even an ottoman before blasting his hot load all over the Asian sex goddess.
"Everything that I wanted to happen shooting with Troy happened with The Flourish," said Marica. "The shoot was good, TJ was very, very funny. Shooting with The Flourish was fun."
"This was my first time working with Marica and second time with Troy," said TJ. "The shoot was dope. Everyone came to put in the work, and we pivoted when we needed to. We also had Gracie Squirts who shoots with us behind the camera helping out, so it was just overall a super shoot. We have Marica in a couple more scripts so look for more!"
"This was my first time shooting behind camera with my Flourish team as I'm a Brand Ambassador," Gracie Squirts. "It's different than when I'm shooting myself. Marica was a sweetheart to me as well so that made things great. And TJ is just nuts, but in a good creative way."
See it now at https://tour.theflourishxxx.com/trailers/Captured-Episode-6-Marica-Hase-gets-the-X-Cross.html.
Also, on their BDSM Fetish site you can catch Queen Rose Freya giving her interpretation on the "State of BDSM".
"TJ and I wanted to give an update to the state of BDSM as it's very niche and changes are occurring heavily," said Freya. "The consumers are changes patterns so it's a great interview for people to consume."
Currently available of their podcast channel, the clip is slated to published on all available platforms including Apple Music, Spotify, and YouTube. Listen now at https://tour.theflourishfetish.com/trailers/Queen-Rose-Freya-BDSM-VideoCast-PodCast.html.
Finally, The Flourish is happy to announce that super-hot scene the Sky View of Suzanne Holly and Brick Cummings from their amateur's site is putting up big numbers!
Be sure to catch it at https://tour.theflourishamateurs.com/trailers/Sky-View-of-Suzanne-Holly-and-Brick-Cummings-in-Rec-Room.html and see what all the fuss is about!
Follow Marica Hase on Twitter: https://twitter.com/marica_1029
Follow Gracie Squirts on Twitter: https://twitter.com/GracieSquirts
Follow Suzanna Holly on Twitter: https://twitter.com/SuzanneWxxx
Follow Brick Cummings on Twitter: https://twitter.com/brick_cummings
Follow Queen Rose Freya on Twitter https://twitter.com/TheGoddessRose1
Follow FlourishFetish on Twitter: https://twitter.com/flourishfetish
Follow PawgDiaries on Twitter: https://twitter.com/pawgdiaries
The Flourish XXX is a Top 30 worldwide producer on ManyVids. See their content now at https://TheFlourishxxx.manyvids.com